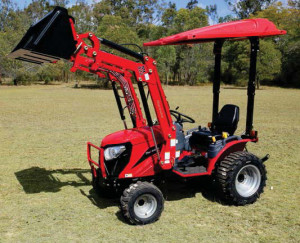 POWER, RELIABILITY AND STYLE.

Power, Reliability and Style – together at last. Rugged and versatile, 4WD compact tractor, heavy-duty transmission and cast-iron chassis with high-lift capacity loader and 3-pt. hitch.
An advanced small tractor, eMax 22 HST is ideal for the lifestyle farmer and available with optional implements. Excellent traction, stability and safety features are all part of the package.
Features a full-length tractor frame that will allow users to install a wide range of attachments including: a 60 inch Mowing deck, Self–Level loader, 4in1 bucket, Slashers, Carryalls, Rotary tillers, Box scraper blades and Post hole diggers.
4×4, 22hp, hydrostatic transmission
4 stroke, 3 cylinder, 1007cc indirect injection water-cooled diesel
Max lifting capacity 635 kg
3 year/2000hr engine and powertrain warranty = Peace of mind
Professional grade construction = Bigger, thicker, more solid components
Heavier, sturdier chassis = Greater traction, stability & safety
Made in South Korea
Specifications
MODEL

eMax 22HST

eMax 25HST

Engine

Model

3C100LF-DY1

3C100LF-DY

Engine HP (kw) – Gross

22 (16.4)

24 (17.8)

PTO HP (kw)

16.9 (12.42) (max)

19.3 (14.17) (max)

Rated engine speed

3000

3000

Number of cylinders

3

3

Displacement – cc (cu.in.)

1007 (61.5)

1007 (61.5)

Air cleaner

Dry Element

Dry Element

Electrical System

Alternator

12V.50A

12V.50A

Fuel System

Type

Direct Fuel Injection

Direct Fuel Injection

Drivetrain

Transmission type

HST

HST

Number of speeds

2 Range

2 Range

Max traveling speed – km/h (mph)

16.4 (10.2)

16.4 (10.2)

Brakes

Wet Disc

Wet Disc

Steering

Hydrostatic

Hydrostatic

Hydraulic System

Pump (type)

Gear Pump

Gear Pump

Implement pump capacity – L/min (gpm)

17 (4.5)

17 (4.5)

Steering pump capacity – L/min (gpm)

10 (2.64)

10 (2.64)

Maximum total flow – L/min (gpm)

27 (7.1)

27 (7.1)

Category, 3 point hitch

1

1

Hitch lift capacity – kg (lb)

600 (1323)

600 (1323)

at 24 inches behind link ends – kg (lb)

419 (924)

419 (924)

Lift control type

Position

Position

No. of optional remote valves

1

1

PTO

Type

Independent

Independent

Control

Electric/Hydro

Electric/Hydro

Mid (rpm)

2000

2000

Rear (rpm)

540 @ 2893

540 @ 2893

Shaft Diameter – mm (in)

35 (1 3/8)

35 (1 3/8)

Capacities

Fuel Tank – Litres (U.S. gal)

25 (6.6)

25 (6.6)

Cooling System – Litres (U.S. qt)

4 (4.2)

4 (4.2)

Crankcase (with filter) – Litres (U.S. qt)

3.8 (4.0)

3.8 (4.0)

Trans.& Hydr. System – Litres (U.S. gal)

14.5 (5.68)

14.5 (5.68)

Front Axle – Litres (qt)

3.5 (3.7)

3.5 (3.7)

Dimensions (with standard tyres)

Overall length – mm (in) with 3P

2563 (100.9)

2563 (100.9)

Overall width – mm (in)

1164 (45.8)

1164 (45.8)

Wheelbase – mm (in)

1460 (57.5)

1460 (57.5)

Height to top of ROPS – mm (in)

2337 (92)

2337 (92)

Min. Ground Clearance – mm (in)

260 (10.2)

260 (10.2)

Min. Turning Radius – mm (in) w/o brakes

2600 (102.3)

2600 (102.3)

Standard Tyres

Agricultural (Optional) Front

6 x 12

6 x 12

Agricultural (Optional) Rear

9.5 x 16

9.5 x 16

Industrial (Standard) Front

20 x 8-10

20 x 8-10

Industrial (Standard) Rear

27 x 12.5-15

27 x 12.5-15

Roll-over Protective Structures

Standard

ROPS

ROPS

Weight

Total weight – kg (lb)

730 (1610)

730 (1610)