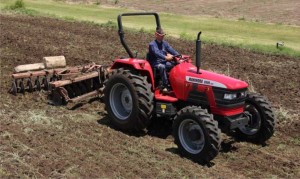 SUPERIOR PERFORMANCE.
The 8000/9500 – 4WD series tractors deliver high level productivity at an economical price.
The tractors come standard with a high performance engine, heavy duty synchromesh transmission, designed to match the impressive power and torque characteristics of the engine.
A robustly built housing results in an overall tractor weight of 3042kgs on the 8000 – 4WD and 3240kgs on the 9500 – 4WD tractor.
The 8000/9500 – 4WD series tractors are ideal for primary and secondary tillage, livestock operations, crop protection, mowing, slashing, haulage, loader applications and other basic chores on the farm.
Featuring suspended brake and clutch pedals, the uncluttered platform makes for easy entry and exit. All this combined with an affordable price tag further enhances the overall value offered by a Mahindra Tractor.
Specifications
MODEL

8000 – 4WD

9500 – 4WD

Engine

Type

Four stroke, direct injection, turbo charged, water-cooled, diesel

Four stroke, direct injection, turbo charged, water-cooled, diesel

Cylinders

4

4

Max Engine HP (k.W.) @ rpm

80 (59.6) @ 2300

92 (68.6) @ 2300

Compression Ratio

18.4 :1

16:1

Displacement (cc)

3192

3533

Electrical System

Battery Capacity

12 Volt, 88 Amp hours

12 Volt, 88 Amp hours

Alternator

12 Volt, 45 Amps

12 Volt, 45 Amps

Clutch

Type

Dual dry, cerametallic lining

Dual dry, cerametallic lining

Transmission

Number of Gears

12 forward, 12 reverse

12 forward, 12 reverse

Type

Forward-reverse synchro-shuttle with speed synchromesh & range constant mesh

Forward-reverse synchro-shuttle with speed synchromesh & range constant mesh

Front Wheel Drive

Front Axle

Mechanical engagement, limited slip differential & planetary reduction

Mechanical engagement, limited slip differential & planetary reduction

Steering

Type

Hydrostatic power
Hydrostatic power

Pump Output

18.92 l/min
18.92 l/min

Brakes

Type
Wet disc
Wet disc

Hydraulic System

Type

Open centre, full-live hydraulic with position and draft control

Open centre, full-live hydraulic with position and draft control

Pump Output

41.6 l/min

41.6 l/min

3-Point Linkage

Category 2, with adjustable outside lateral stabilisers

Category 2, with adjustable outside lateral stabilisers and heavy duty telescopic lower links

Lift Capacity

1800 kgs

2500 kgs

Auxiliary Remote Valves

1 spool standard

2 spool standard

PTO

PTO HP (kW)

67 (49.96 )

74 (55.18 )

PTO RPM (Engine RPM)

540 @ 2187

540 @ 2187

Type

Independent two lever engagement

Independent single lever engagement

Operating Weight

Total Weight

3042 kgs

3280 kgs

Dimensions

Overall length

4104 mm

4104 mm

Overall width

1963 mm

2050 mm

Turning radius with brakes

3962 mm

3962 mm

Wheels & Tyres

Standard Ag (Front / Rear)

11.2×24 / 16.9×30

12.4×24 / 18.4×30

Optional Ag (Front / Rear)

12.4×24 / 18.4×30

N/A