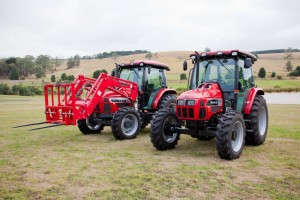 HEAVY-DUTY PERFORMANCE AND POWER.
These new generation tractors are designed to offer both high performance and state-of-the art comfort. Available in open station and Cab models. Cab models offer a dust-free and quiet operator environment.
Features a robust construction with a high torque engine, heavy-duty synchromesh transmission with shuttle and heavy-lift hydraulics.
Powerful, reliable 4 Cyl. turbocharged, intercooled 83 hp engine
Hydrostatic Power Steering with tiltable column
Dual Speed Independent PTO 540 RPM and 1,000 RPM PTO
12F / 12R synchro shuttle with full synchro mesh
1 tonne S.W.L on loader
2.5 tonne lift capacity on linkage
Powerful headlamps and plenty of work lights ensure you can keep working long after the sun goes down
Easy entry and exit access with comfortable mounting step, hand grip and flat platform
Specifications
MODEL

8560 ROPS (mPOWER 85)

8560 CAB (mPOWER 85P)

Engine

Type

Turbocharged, four stroke intercooled, Mahindra Common Rail Direct injection diesel

Turbocharged, four stroke intercooled, Mahindra Common Rail Direct injection diesel

Cylinders

4

4

Max Engine HP (k.W.) @ rpm

83 (61.9) @ 2300 rpm

83 (61.9) @ 2300 rpm

Compression Ratio

17.2:1

17.2:1

Displacement (cc)

215.4 (3531.46)

215.4 (3531.46)

Cylinder Sleeve

Wet replaceable

Wet replaceable

Fuel Tank Capacity (litres)

73
82

Electrical System

Battery Capacity

12 volt, 96 amps

12 volt, 96 amps

Alternator

12 volt, 55 amps

12 volt, 120 amps

Clutch

Type

Dual dry with ceremetallic lining

Dual dry with ceremetallic lining

Transmission

Number of Gears

12F / 12R

12F / 12R

Type

Forward/Reverse synchro shuttle with full synchro mesh

Forward/Reverse synchro shuttle with full synchro mesh

Steering

Type

Hydrostatic power with tiltable column
Hydrostatic power with tiltable column

Pump Output (lpm)

20.1
19.7

Brakes

Type
Wet disc
Wet disc

Hydraulic System

Type

Open center, full-live hydraulic with position and draft controls

Open center, full-live hydraulic with position and draft controls

Pump Output (1pm)

61.2

61.2

3-Point Linkage

Category 2 ball joints with telescopic lower links and stabilizers

Category 2 ball joints with telescopic lower links and stabilizers

Lift Capacity (kgs)

2495

2495

Remote Auxiliary Remote Valves

Standard 2 spool, 3rd optional with detent in raise, lower and float position. Kickback in raise and lower.

Standard 2 spool, 3rd optional with detent in raise, lower and float position. Kickback in raise and lower.

PTO

Max PTO HP (kW)

70 (52.2)

70 (52.2)

PTO RPM @ Engine RPM

540 @ 2187; 1000 @ 2180

540 @ 2187; 1000 @ 2180

Type

Independent

Independent

Operating Weight

Total Weight (kgs)

3309

3709

Dimensions

Overall length (mm)

4116

4216

Overall width (mm)

1963

2068

Turning radius (meters)

4

4.24

Overall Height to Top (top of Cab) (mm)

2400

2748

Wheels & Tyres

Ag (Front / Rear)

12.4×24 / 18.4×30

12.4×24 / 18.4×30

Industrial (Front / Rear)

12.5/80×18 / 19.5Lx24

12.5/80×18 / 19.5Lx24